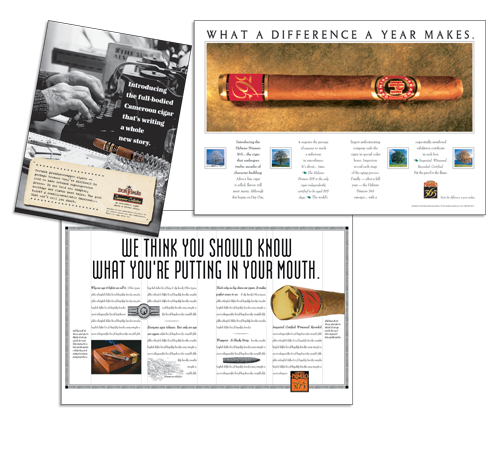 When the cigar boom was cresting in the mid-Nineties, anybody could sell anything with a band around it.  The post-boom shake-out turned sales into a much-greater challenge.
In that environment, Shirley/Hutchinson created national advertising campaigns that introduced several new US Cigar products.
The assignment was not only to increase awareness for existing core-product lines (the Habano Primero and Don Tomas families of specialty blended cigars) – but also to create new customers for Don Tomas' two new products, the Dominican Selection and the Cameroon Collection.
Shirley/Hutchinson started by investigating competitive creative tactics and cigar consumer buying habits.  With these insights in mind, coordinated campaigns were created — unique to each cigar — that addressed both individual "personality" and tobacco quality.
Results?  The Don Tomas Dominican Selection enjoyed a solid roll-out.  But the Cameroon Collection blew off the shelves, becoming  — at that point in time — US Cigar's most successful new-product introduction ever.