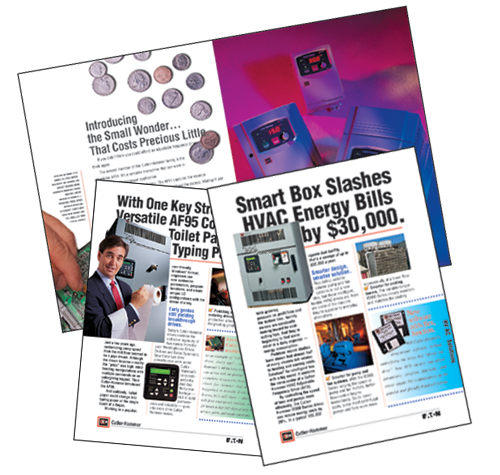 After years of research and development, this six-billion-dollar company decided the
AF-91 adjustable-frequency micro-drive was finally ready for the world. Our job: make the world ready for the AF-91.
We suggested a frontline approach.  Take the primary point of contact — the sales force — and make their job easier.  Give the road-warriors a new weapon.
We created The Black Box: a lightweight, high-impact, heavy-duty portable file that organizes all the information about the AF-91. For the Eaton salesperson, it's a traveling office that helps him close the sale.
It includes a benefit-driven AF-91 product brochure.  Three industry-specific application sheets, detailing exactly how Eaton drives save time and money.  And plenty of tabbed categories for "the rest of the story" to come.
The genesis?  When we took the initiative to talk to salespeople in the field, this is what they wanted.
In today's environment, great ideas require great homework.
It's where we start.