Unhappy with the caliber of some New York-based radio production, Checkers asked S/H to submit some alternative concepts with a little more edge.
That trial balloon resulted in a chicken-sandwich promotion called "Cluck For A Buck", which helped dramatically reverse several quarters of downwardly-trending sales.
All kinds of neat stuff followed. Intrusive, strategically on-target S/H radio commercials featured a giant-chicken farm, a testimonial "chicken-salute", a Gary Owens game show called The Price Is Wrong, a thoroughly-embarrassed clown (Addy Winner), a pair of Dragnet-style cops, a ranting radio commentator and an overly-loyal member of Ricky Rudd's pit crew.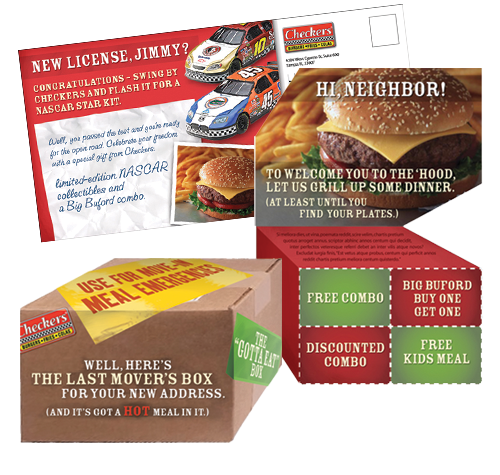 In print, original point-of-purchase graphics helped launch the Western Bacon Champ and new late-night hours (the latter featuring an illustration by Mad magazine's  Jack Davis.